I thought I'd post some pictures of the UMAX SuperMac C series CacheDoubler card I got off eBay not too long ago, there doesn't seem to be many pictures out there. The CacheDoubler has 1MB of "inline" cache running at 80Mhz, double the logic board bus speed that L2 cache installed there runs at. Some interesting history on this at
SuperMac Insider
.
Mine's not working in my C500/180 but taking a closer look I'm pretty certain a capacitor has been knocked off... If anyone else has one of these I'd appreciate it if you could confirm it has a capacitor installed at C1 and the C&V values of the cap.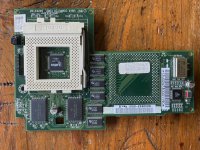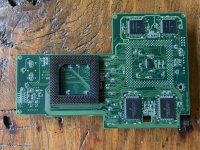 The CPU clock jumper block is a bit confusing to me, I think "0" means jumper in place but when I received it there was only a jumper on J4 which doesn't match up with the CPU options in the key/the 240Mhz CPU that came with it. I have J3,J4,J7 jumpered in here (the one on J3 has an open top):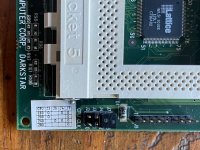 The way it fits in the case is kinda neat, there is a little hole that accommodates one end of the logic board L2 cache connector that would otherwise block the install. Some before and after pictures below.
With the original 180Mhz CPU and 256k L2 cache card: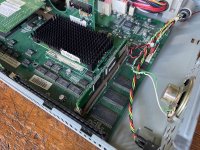 Now with CPU and cache removed: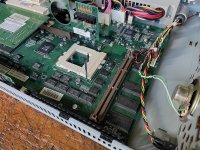 CacheDoubler (with 240Mhz CPU) installed: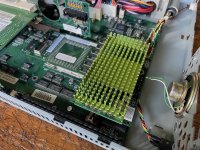 From the other side, where you can see the logic board L2 cache connector sticking through: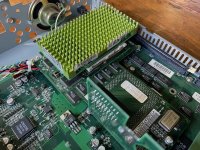 Last edited: