I have an SE that contains a Radius 020 accelerator. Further PDS expansion on top of the accelerator would have to happen through the MagicBus slot, and there was never an Ethernet card that plugged into that slot. I also had one of
@saybur
's scuznet boards (built by
@aladds
), so today
@joshc
and I rigged it up internally in an only moderately heath-robinson fashion using mostly bits that were hanging around, with only a tiny bit of (optional) soldering. This thread notes how we did it.
Here's the scuznet setup: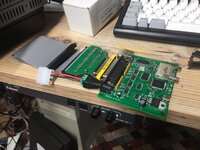 SCSI
was provided to the scuznet through an internal-to-external adapter and a standard 25-pin D-sub gender changer, as found on—I think—eBay.
Power
was a molex socket taken from an old fan adapter, with the 5V and ground wires screwed into a screw terminal to barrel jack adapter—once again, sourced from eBay some time ago.
The only soldering we had to do is to tack on wires for an external activity LED, replacing the activity LED on the board.
This whole affair mounted onto the hard disc sled (this is the machine with the pink hard disc sled) with sticky nylon standoffs which aren't quite straight because I'm slapdash.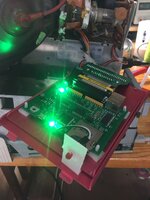 To get Ethernet out to the back panel of the machine, I got a panel mount CAT6 extension lead that looks like this:
Need to expose HDMI, Ethernet, or USB to the outside of your project/enclosure? These lovely little 50cm panel mount extension cables are just the job!
shop.pimoroni.com
(though I can't remember if I actually got it from there or from eBay).
Some time ago, I designed a PCB backplate that will screw onto the expansion slot opening in the back of the SE, and take this extension lead:

Gerbers for this are available at
https://github.com/cheesestraws/misc/tree/master/scuznet-mac-se-backplate
. Do as you will with them.
Inside the machine, this all looked like this (yes, a shorter Ethernet cable would have been good):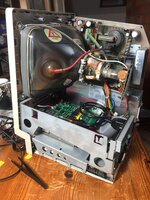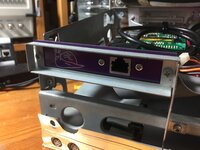 And with the back on, it looks like this: