I never started a comprehensive "conquests" thread until now, mainly because I never thought I'd buy many things in these last years. But I came across some really nice pieces, so I'd like to share them with you guys. Some things may have been already posted, but I don't remember what was lost in the recent data loss so here they are.
Last year I came across a non-working Color Classic for 50$. Since then, I searched for LC550 and LC575 logic boards to upgrade it as soon as I had a chance to repair it.
My first conquest was off Buyee, this LC550 logic board. Untested, but promising as there are no signs of corrosion, just sings of humidity around some chips: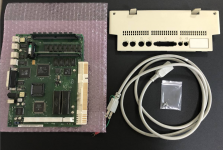 I realize now I already posted it last year, but....whatever
Next, and I am sure many of you remember, I won a LC575 that arrived completely destroyed. Here is the picture for posterity: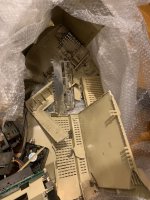 Fortunately, the logic board survived. Very dirty, dust everywhere, but no signs of corrosion or broken things. Aside from that, the only surviving piece I could find was the front buttons for volume and brightness. Maybe floppy drive and CD drive work, who knows. Can you believe that?
I am really looking forward to the time I'll be able to put everything together. Building a nice Color Classic (CCII or Mystic) would be amazing! But I don't have the skills, so it'll have to wait until I find someone who can help me.