Starting a generic thread because I have a feeling it's going to grow.
Time for the first entry in 'tales from Paulie's living room floor'.
So it was a productive weekend in terms of beige Macintosh acquisition. After losing out on a decently spec'd but overpriced LC475 on eBay due to the seller refusing to actually let me have it for the winning bid (that's a story in and of itself), I decided to reinvest the money in something else. Not very long later I found a Power Macintosh G3 (of the beige variety) a reasonable distance away. Three hours later; I had it in my possession.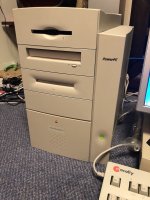 Condition wise; it's in excellent condition considering it's age. According to the label on the back, it started life as a G3/266, but thanks to a Sonnet thingy it's now a 366. Which is nice. Got 512MB RAM, which in theory could go to 768MB if I was determined enough. Has a non-original 80GB Seagate IDE HDD, Apple IDE CD-ROM, floppy (which works, amazingly), and a Zip drive which I haven't tested yet due to lack of disks.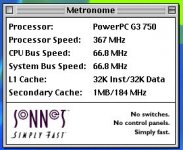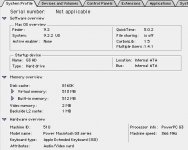 I've chucked 9.2.2 on it, seems appropriate for the age and spec. Technically it 
could
 handle OSX, but I think it would start to struggle.
Here it is running.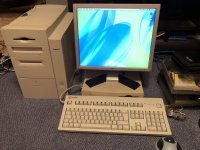 That was Saturday. On Sunday, I had a visit from joshc, who had sold me his 8200/120 that needs 
some
 help.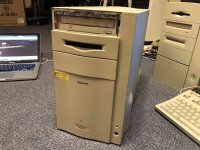 For the uninitiated, the 8200 is basically a 8100 in a tower case, that wasn't sold in North America. This particular one has seen a little too much time near the sun, and has what I'm calling Plastic Leprosy. Anything plastic is very brittle, and Josh supplied me with a bag of plastic parts that have already fallen off. 
The reason I have it is that the PSU is toast (
literally, see Josh's thread
), and Josh has too many other projects on the go to give this one the love and attention it deserves. Originally I was considering building some sort of ATX swap arrangement for it; but luckily I found a PSU (from a 9500 which appears to use the same one) on eBay, so have snapped that up and waiting for it to arrive. Honestly it's unknown if this thing even works, but if it does, I'll tidy it up (including gluing some of the plastic bits back together), and I think 8.6 would be appropriate. Still not ruling out engineering a ATX adaptor for it, though, especially since I have the dead PSU to harvest the wires/connectors from.
Check out the size of this PSU. Absolute chonker.