Confession time: retro macs aren't my only hobby. They might not even be my 
main
 hobby. Here's what one entire corner of my office looks like: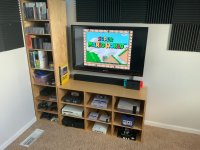 I'm a pretty big fan of retro videogame consoles, specifically the Nintendo Entertainment System, Super Nintendo, Nintendo 64, Sega Dreamcast, and original Xbox. Getting them to look good on a modern display is pretty difficult, so my entire setup (with a couple of exceptions) uses S-Video cables, which connect to a little line-doubler box called a
RetroTINK
. It takes 240p or 480i input from the consoles, and converts the video to 480p over HDMI with super minimal input lag.
It looks pretty great! Unlike what most HDTV's do with 280p vide, pixels are nice and sharp, and there's no perceivable input lag. But I don't think I need to convince this community about the nostalgia of playing retro games on a real CRT. The ultimate CRT for playing retro games is a special type of display called a PVM, or Professional Video Monitor. If you aren't familiar with PVM's, they are CRT's that are built for professional environments such as medical imaging, television broadcasting, or security. They are usually rack-mountable, and also feature special inputs such as S-Video, Component, or even true RGB. Some of them can also do more than typical 480i, achieving 480p, 720, or 1080i in some cases. They're also usually judged by their amount of "television lines"; the amount of resolvable vertical lines that can be displayed on the screen.
Sadly, with the advent of LCD's, most PVM's got thrown in the trash, just like our beloved Macs. After searching Craigslist and Facebook marketplace almost daily for 2.5 to 3 years, I finally found one - a Sony PVM-14N5U. No component or RGB input - just S-Video and Composite, But at $150, I couldn't resist (and my setup is mostly S-Video anyway). These typically go for $200 to $400 on eBay, plus shipping. Here's one the seller's photos: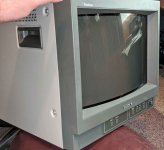 I offered the seller $120 sight-unseen, and he took it! The trick is that it was located about 5 hours away from me, yikes. I asked around, and ended up finding a friend of a friend who lives where this came from in northern-ish Idaho. We made contact on Facebook, and he agreed to pick it up for me (this was about 4 days ago).
By sheer coincidence, he was days away from headed to the sand dunes on the Oregon Coast, which is easily 10 hours away, but exactly where my parents live! He sent me pictures of it in the storage compartment behind the cab of his semi truck. I am super, super appreciative of his efforts with the moving blanket. Keep in mind that I've never met this guy!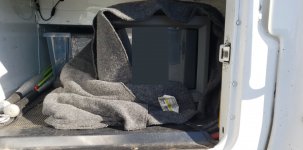 After he got his campsite set up on the sand dunes, he took the PVM across the dunes to meet my dad to pick it up. Seeing this picture was 50 percent hilarious, and 50 percent terrifying!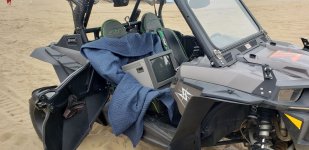 About 30 minutes later, I got this photo from my dad. This is the first good photo I've seen of it. A bit more scuffed up than I'd hoped for... the metal part could probably be repainted.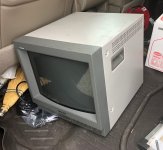 My brother is going to visit mom and dad in about a week, or my dad might just fly it over for me in his airplane, if he decides to come over to Idaho for a quick visit. After 2 1/2 years of looking, I am really, REALLY stoked to finally get a PVM!
Now, about that Macintosh Color Classic...
Last edited by a moderator: