Hi there, this is my first thread and I'm looking for help already! My SE/30 is… not so well. As this is my first thread, I thought I might as well be relatively thorough, and also introduce myself a bit. I'll put the relevant photos of the machine and scope captures at the end.
My Background
Australian, in Australia, officially a freelance graphic-designer-slash-creative-type by day
Electronics/3d printing/vintage computer, etc enthusiast by night and also too much by-day when I should be "generating revenue" or whatever??
Have repaired and restored several vintage Macs after becoming thoroughly addicted a few months ago:

Classic (x2)
Classic II (x2)
Colour Classic
LCII
IIsi
IIci
G4 Gigabit
Performa 5260 (in progress — too crumbly to really fall in love with, don't want my heart broken when it collapses, but my 4yo daughter loves it and KidPix)

Haven't yet retrobrited anything, but I have recently acquired the bleach cream and the UV source, and have a nasty stained mouse ready to go… just need the time, space, motivation and courage, but they're not available on Amazon ¯\_(ツ)_/¯
SE/30 Background
Purchased my SE/30 as non-working from sad_mac on ebay (Shipping an SE/30 to Australia from the US cost a lot, but the total cost was still significantly less than buying one locally. WHAT.)
Logic board looks to be in good condition overall.
Cap removal, desoldering and some cleaning had been done before I received it
I have installed new Kemet tantalums and Vishay radial electrolytics
I have not touched the analog/power sections because on close inspection and measurement they don't appear to need it yet (no leaks; happy volts)
I have re-cleaned the logic board in an ultrasonic cleaner with Electro detergent as recommended by Branchus (thank you!), then rinsed it in clean tap water, then soaked briefly in clean isopropyl alcohol before drying with compressed air and then baking at 105°C for about 5-10 minutes.
Included Apple 512k ROM. I've been told it tested good before shipping (could have gone bad since but I think unlikely)
Did not include RAM. RAM I'm using works in my IIci and my IIsi. I've tried 70ns in both 1MB and 4MB, always multiples of four at a time. Not mixing sizes. When ram is missing/incomplete/definitely incompatible, I get an immediate crash sound.
Nothing is socketed except for the video ROM.
SE/30 Symptoms
Semasimac screen: characteristic vertical lines with a different "texture" towards the centre third of the screen
No boot chime or other "physical" activity (does not attempt to boot)
Sound works: crash sound plays when pressing interrupt button (is this in the ROM??)
Crash sound on power up if no ram (or wrong ram) is installed
CPU clock signal not super-clean (C16M). Crystal signal to UE10 looks OK.
Activity on all data and most address lines: no activity on A0 and A1, unless interrupt pressed - normal for ROM? (Rom A0+1 pins NC on SE/30 schematic..?)
Even-numbered data lines have identical activity to one another (not checked all; D0,2,4,6 are identical to each other, as are D16,18,20,22)
Odd-numbered data lines also have identical activity (not checked all; D1,3,5,7 are identical)

To do: check this behaviour after pressing interrupt

Identical data activity confirmed using "math" on oscilloscope. Subtracting one from another gives a flatline.
UE8 and adjacent chips appear to be working

To do: confirm expected output from known input Note to self: Video section doesn't interact with all data lines, only D24-D31

UG6, UG7 and UI8 and UH7 get quite hot when running outside of case with no fan.
Tried and checked so far
Re-cleaning in ultrasonic again - found some more goo under a chip, all seems clear now
Continuity checked and good on all data and address lines per matrix from redrawn SE/30 schematics
No shorts between adjacent or odd/even data lines
Video ROM appears to have activity on data and address lines but I can't be sure because I'm measuring it in-circuit
Removing the video ROM didn't change the symptoms (so above point likely irrelevant?)
CPU appears to walk the bus with no rom installed (checked with logic analyser. Not certain if signal voltage levels are good — will check with scope to see actual signals)

To do: remove all simms and check bus-walking voltages

Power supply voltages good

To do: confirm voltage rails with computer attempting to boot. Ripple on 5V? Measured OK on DMM but re-check with scope.

Analog board seems good
Lovely purple ROM on the way from Aberco on ebay for clean 32bit, but will also be useful to rule out bad rom.
Traces in the video multiplexing (?? I mean around UA8 to UG8 - is that what it's called?) area have continuity and look ok. They do need solder mask. I put some on (prematurely) at first, and have since removed it for further testing and checking.
I was probing around UB11 (Sony sound chip) with the scope at one point, and managed to get a boot chime when I hit the reset button at the same time. This is the only time I've heard this machine make a boot chime. No hdd so no boot, but it did chime at least. I have focussed a lot on this area since and cannot recreate this. I thought it might be a problem with the reset line (bad switch, bad resistor, bad Sony chip??) but the reset line tested OK and the reset button resets the machine (tested by pushing reset after I cause a crash sound with interrupt button).
Current Theories
It could be two separate issues, or one: simasimac could be independent of boot failure
Bad PAL(s) — possibly UH7 generating bad clock on C32M
I'm realising now that I do not entirely understand how all the various clock signals work together

To do: understand the clock path better, if the waveform below is bad

Could UI6 be generating a bad C16G (is that where C16G comes from?)
The messy C16M clock signal could be causing the semasimac issue because the C16M line connects to all video PALs
The semasimac issue could be causing the C16M clock signal messiness
Bad CPU — duplicating data lines?
Questions
Are my above theories on the right track?
Is clock waveform OK or is it a giant clue?
Does UE10 generate C16M?
At the GLUE, C16G is connected to C16M. What do the G and M represent? (Could this be a typo at the GLUE?)
C16G appears to connect only the GLUE and UI6. UI6 is also connected to C16M. Why does UI6 need both?
UI6 appears to be clocked by C32M. Does UI6 generate C16G by dividing C32M?
Is the duplicated odd-and-even data line activity expected behaviour in the very-early boot process?
Is it normal for UG6, UG7 and UI6 and UH7 to get quite hot when running outside of case with no fan?
Is there a way to test an SE/30 ROM without access to another SE/30? (This SE/30 rom can't boot a IIci or a IIsi, but I (now) believe this is expected)
Are there any suggestions on what to investigate next?
This has me stumped but I'm trying hard to solve it. I have tried to be as thorough as I can in this post; apologies for the length! I've learnt a lot and checked a lot in a short space of time, so apologies in advance if I've mixed up a bunch of concepts!
Thank you all in advance for any help, advice, pointers etc. End of too-much-text but here are some pictures:
CPU walks the address bus with no ROM (nothing on A0+1 (expected?)):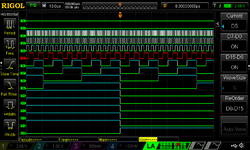 ROM for reference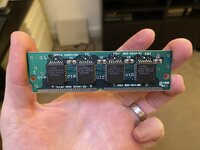 D0-D3. Evens identical; odds identical. Middle line is oscilloscope performing D0-D2.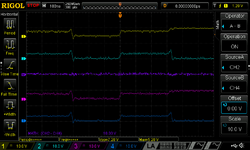 D0, D2, D4, D6 (several cycles are superimposed here) Identical signals on multiple data lines.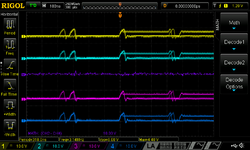 Clock waveform (31MHz, C32M)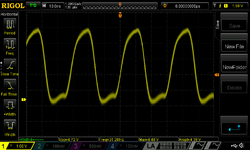 (Clock waveform from my LCII for comparison, at lower frequency)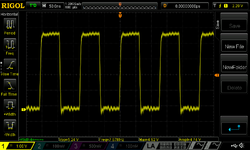 Reset line (blue trace) doing its thing. (I can't remember if the logic analyser was on D or A pins in this capture)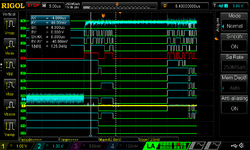 Board front (disregard the RAM... I know: I was trying something and once these simms are in, I hate risking the plastic clips to remove them before I have to!)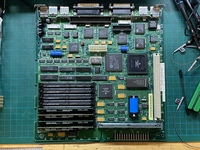 Board rear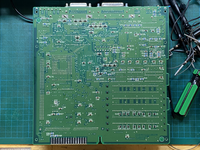 Ende. Thanks for your attention!