Previous thread details my path to resurrecting a stored Quadra with leaked caps but intact battery.
It now boots perfectly, reliably, and all of the inputs so far (ADB, External and Internal SCSI, Floppy) seem to work without fault. I've been playing all of the games that are on it and it's just fine in every regard including audio and speed/performance.
The final hurdle to a perfect repair is the weird video glitches. I'm working with a ViewSonic V70f CRT as well as an LG LED monitor. I have a 10-dip DB-15 to HD-15 adapter. So far it will only display anything if it is in "Composite Sync 1" or "Separate Sync" modes on either screen.
Here is the ViewSonic specs:
Fh:30~70kHz, Fv:50~120Hz
Up to 1280 x 1024
Sync: H/V separated (TTL)
Regardless of monitor used, I have strange video graphical glitches.
When booted in ROM waiting for a bootable image to load, it will have vertical bars. It's hard to see them but they have a slight dark/light gray pattern. They're all even-width and span the whole display. The difference in color isn't that great.
Once it loads far enough into the system, it will suddenly flash and the gray error will go away but a new error will appear. A peppering of inverted pixels. That is to say that across the screen in random but FIXED positions, a white pixel will actually appear black or vice-versa. They will flicker quickly like white noise but appear to stay in the same place. It kind of looks like static but its very very sparse. See image.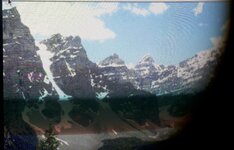 Any clue what may be going on? Is there possibly some grounding issue either on the board, on a connector, within the PSU? Is there possibly "dirty" or "noisy" voltage from the PSU that's creating the noise?
Things I've tried:
Tested resistance from the PSU PCB ground plane to the PSU case and it is at least 2Ω. Is that normal?
All compatible video modes (using the dip switches) on CRT and LED monitor.
All SCSI devices unplugged (internal and external)
Booting from a SCSI device (internal and external) with all or no other SCSI devices connected.
Booting from floppy.
Booting System 7 Disk Tools, 7.5.3, and OS 8.
Booting with NO SIMMS or one SIMM in various slots or the other SIMM in various slots.
Jiggling the connector and display adapter.
Different cables.
Poking things with a stick.
It's very useable, just would like to have that final finishing touch. Thanks all.