Thanks to
@NeshireChoir
I finally got the Rasterops Accelerator a 12" NuBus card. Looks like Rasterops made 2 versions, I and II in the same year (1990). I have version I and found quickly what was wrong with version I. It was not designed to be put into compact Mac II like IIcx or IIci. The top cover can't be closed, only if you cut/breake the clip that holds the NuBus cards when the lid is closed. (See bent chip from top left side on picture below). I have filled the card with 4x 30 pin 4 MB SIMMs.

Rasterops Accelerator I (pic /ilike8bits.com)
I did a quick test on Macintosh IIci, 64k cache card, unaccelerated Rasterops 24STV video capture card, Rasterops Accelerator (50% memory was reserved for GWorld and 50% for RAM disk), 13" 640 x 480 Monitor with Norton Utilities. Good thing is you can switch ON or OFF the Accelerator without rebooting.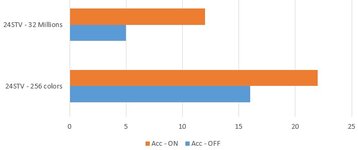 Accelerator does help, not as advertised (see picture below) but still slower than Mac IIci built-in video which is around 25 points and more.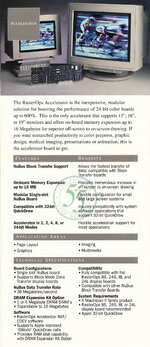 And picture of Accelerator II from wiki.preterhuman.net