For a long time, maybe since 1995 I had a Quadra 840AV motherboard and power supply in the closet. It came from a discarded, stripped machine at work that was being thrown out, and had it's CDROM and floppy drive stripped. Was just been sitting there all this time, and I had forgotten about it.
After trying to power on my old IIsi which probably has a bad power supply, I was scrounging around for a 68K Mac to play with and remembered that board. I couldn't turn it on for the last two days, even after changing the PRAM battery. Today, I tried it again and this time reset the PRAM with option+apple+p+r and it just worked!
I hooked up the old hard drive from the IIsi directly to the motherboard and she booted up! Hope it's a stable motherboard.
Now, I'll have to build a nice hackintosh case for it.
Sorry for the poor quality photos, they're from my crappy berry.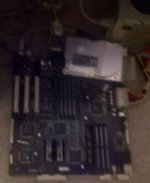 Woot, the one single SIMM it has is a big one! Either that or ram doubler is lying to me.