Hi there,
A few month ago i did a restoration of my dads old PB150 including an "upgrading" it to IDE2C, restoring traces and soldering a new PRAM-battery (restoration can be seen here:
https://www.reddit.com/r/retrobattlestations/comments/ng5khg
) - the PB 150 after that worked without any problems (ecxept the battery which i did not replace). Yesterday when i tried to start the machine again, after ive had left it alone for a few month i wouldnt get an image on the screen. I hear the chime, backlight seems to work, but i wont get something displayed (sometimes i could notice a black square in the upper right corner.)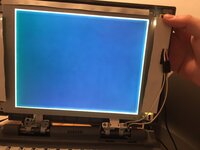 I read that in some models (PB 140,145,160...) the electrolyte capacitors inside the lcd-unit will get faulty over time so i opened it up an had a look. But the Tantalum (?) Caps look fine to me:
I also took a look at the inverter board. C1 and C2 which (to my knowledge) are responsible for contrast and brightness might be not too good, but as far as i know i would still get an image even when both were bad? I would really appreciate to hear from your experience and thank you all in advance.