According to this thread, the cpu needs to be firmly seated for the machine to boot:
https://68kmla.org/forums/index.php?/topic/21868-8500-wont-chime-need-advice/page-2 
I don't have sound so I'm guessing the CPU card isn't fully seated. This machine is lacking the plastic retainer, so I can't be sure it is in perfectly.
I have tried re-seating the card a million times now with no success. Should the card be touching the plastic notch?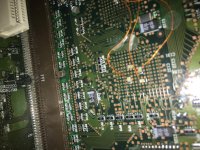 I also noticed a slight knick in the cards connector, could something this small be stopping it? I am so stumped right now.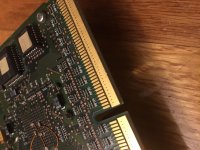 Last edited by a moderator: