I've had a Panasonic KXL-D745 CD-ROM drive since I was about 13 years old. It has a SCSI PCMCIA controller, a special cable, and then what I think is a SCSI-2 connector on the drive itself: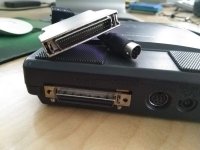 The KXL-D745 (what I have) only cites compatibilities with PC's. The KXL-D742 and KXL-D783M both cite Macintosh support. I basically don't know how CD-ROM drives on Macs work, but I would LOVE to use this with my Macintosh SE running System 7.0.1.
Does there need to be anything special about the SCSI CD-ROM drive to work with my Mac?

Would I just need a DB25 to SCSI-2 cable (where can I get one)?

Is there any chance of this working?