My iMac G3 had arrived today and when I unpacked it, I've noticed some beige plastic around the VGA and RAM lids, I took it out. Then I noticed that the bottom left CRT holder is cracked and there's a screw visible, I opened the iMac and while I was opening it more and more beige plastic pieces started to fall out of the iMac. The bottom plastic case was a bit stuck, but at the end, the beige plastic had snapped and released the right part of the white bottom case. Also, the CRT doesn't fit perfectly with the front panel, there is a small space between the monitor glass and the plastic case.
This means I need a new beige CRT mount, I don't quite know how is it called officially.
Here's a picture of the part from one of the iMac disassembly videos because I don't have time to disassemble my iMac fully at the moment.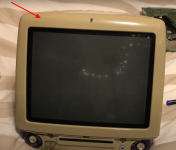 Could you please give me a tip where I could find this part?
Last edited by a moderator: