So I recently acquired an Apple M0100 mouse to go with my recently acquired Macintosh Plus. I can move the mouse from left to right, and I can click, but I cannot move the mouse up or down.
I disassembled the mouse and gave it a good cleaning. I also checked the continuity for all of the pins and verified that the cable is good. I also checked all of the traces, and they all seem to be good. The only thing I can think of is that the actual sensors that detect the movement for up/down may be bad? But is seems like quite a coincidence that both up and down would be bad... I don't see anything visibly wrong with them.
I'm not entirely fluent in electronics, but the readings I am getting across the resistors and the sensors match what the working left/right ones are giving me.
Does anyone see anything on the board that I'm missing?
If the mouse is good, then the alternative is that there is something wrong with the computer. Unfortunately, I have neither a spare Plus nor a spare mouse. Any advice is much appreciated!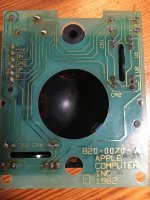 Last edited by a moderator: