As I mentioned in another thread about my broken IIci - I also had a "Centris 650" sitting around. The thing is - it isn't really a Centris 650, or at least it isn't a WHOLE one. At some point it looks like a Centris 650 was shoved inside a Mac IIcx case and the back was drilled out and replaced with a metal cover for the ports. When I got it this machine had been sitting in storage for over a decade at the mice got in there somehow...Anyway after a weekend of cleaning I got this machine up and running. Wanted to share some photos as I have never seen anything like this before.
I need to get some grease for the floppy drive, then I will do a much deeper clean.
Haven't figured out why I can't get a DHCP ip on the netcard yet.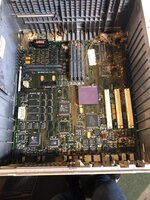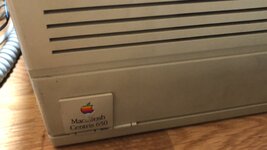 Last edited: