IDE support in Beige G3 is provided by the Heathrow ASIC. The Desktop variant, ROM Release 0x40F2, uses REV 1 of the Heathrow ASIC.
That's what the device tree node in OpenFirmware 2.0f1 displays for Heathrow: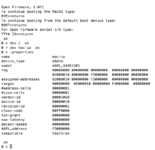 Please notice the value of the `revision-id` property that contains "1".
Now someone that owns a Rev C board is asked to check the revision number of the Heathrow ASIC.
If it's still "1" than the issue must be in the system software, precisely speaking the ATA Manager.
BTW, please keep in mind that IDE aka ATA is considered a mess before 1998. Even if there were attempts to standardize this (mildly speaking) HW hack there were a lot of manufacturers that didn't follow the standards. Unfortunately, that's also true for Apple whose IDE controller cells use different PIO timings as recommended in the specs...
Last edited: