I have two iBook clamshells I've been working on. I stripped them down this far, but in both cases I got stuck at the screw holding the left hinge, the one dead center in this photo: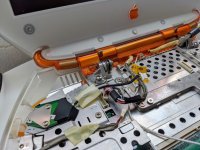 It turns freely, but won't come out. There's enough of a gap for the grounding cable to rotate, though. I tried forcing the screw upwards, but didn't make any progress. The screw on the right hinge comes out without any trouble.
A stuck screw is no surprise, but I wasn't expecting to get stuck on the same screw in both iBooks. Is there something I'm missing? Is there something about this specific screw? Any advice on how to proceed?