The local library was having a book sale, which I arrived at 20 minutes before it ended. (IE, the point at which you paid $3 for a grocery bag and walked out with as much as you could stuff.) In the computer books section I found something not a book: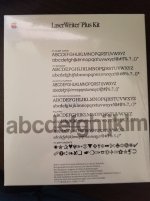 still in its original shrink wrap.
To quote this late 1986 press release:
The LaserWriter Plus Kit (M0191) enables users to transform a LaserWriter into a LaserWriter Plus. The kit contains:

Sixteen 512K ROM chips containing 11 built-in type families;

A Printer Installation Disk with print drives for the LaserWriter, Macintosh 128K with the LaserWriter, ImageWriter, and the AppleTalk ImageWriter option soon to be available. All LaserWriter drivers on the system must be updated with the Printer Installation Disk;

A Fonts Disk that includes a copy of the Font/DA Mover and the screen fonts for all printer fonts shipped in the LaserWriter Plus Kit;

A revised LaserWriter Manual, describing all the new software features;

A LaserWriter Plus label you can affix to the outside of the LaserWriter after the ROMs have been installed.

I have absolutely no use for it (and am not really into collecting shrinkwrapped memorabilia) so maybe I should be posting this in the Trading Post section, but... whatever, weird thing to find at a book sale. (If someone actually wants this by all means shoot an me a message, I'm open to any offer/trade that covers the hassle of throwing it in a shipping box. Anything 8-bit is interesting.)
I *almost* want to open it just to behold the glory of 512K's worth of 1986 ROMs and a virginal Laserwriter Plus label but, you know, NRFB!