Howdy everyone!
I've got an SE/30 that I'd like to try to get A/UX running on at some point, but have no desire to spend the exorbitant prices that rare-as-hens-teeth SE/30 PDS network cards command. I do, however, have an Asante EN/SC SCSI ethernet adapter. Out of curiosity, I read through the manual for the EN/SC and saw the following: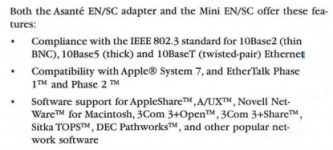 But that's it. Other than a trademark mention at the end of the manual, there's no other mention of it.
Has anyone ever managed to get A/UX running with an EN/SC as the network adapter? I'd be really curious to know, otherwise, I plan on trying this out in the near future and would be glad to update here.