I have enabled AFP back in the Synology(*)
Initially all the files in the shared folder were sit archives, or hqx or disk images.
By chance I expanded a sit file in the shared folder from a connected Mac and to my surprise data and resource forks were preserved.
I can leave the uncompressed applications and take or put them from the connected Macs with ease.
When back in a modern Mac the uncompressed files (MacPing in this case) are shown like this: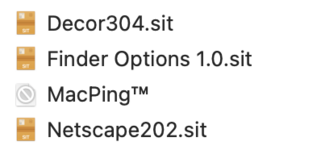 I can now download the sit files from Basilisk II from a modern Mac and save the uncompressed app in the NAS AFP shared folder.
Which is perfect to me, quick and easy, stil I don't understand the magic under the hood.
(*) I prefer not to spend time in compiling, deploying, runing and config Netatalk, it's just me, I know it's not in comfort zone, I prefer to play with the macs instead, so I will live with the v3.