Hi pals,
I have something that can be useful to other and some questions at the end.
I was struggling installing Netatalk as a docker container in my NAS 218+ when I noticed the error "port 548 already in use" .."WHAT???".
I then recall an AFP flag in the "File Services". When I installed it a couple of years ago it was meaningless to me...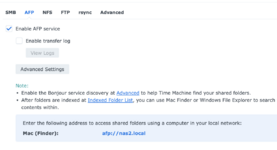 I configures a "mac" user in the NAS and I opened my OS 9.2.2 virtualised in UTM and typing the IP address of the NAS ...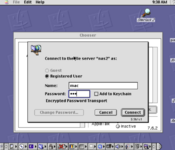 .. It worked!
I then installed OT 1.1.2 + AppleShare Client 3.7.4 (thanks to
www.savagetaylor.com
) in my SE/40 system 7.5.5 equipped with a NIC card and from the Chooser typing the IP address I was able to connect.
From the SE/40, I can browse, get and put files in the shared folder: amazing! This can be handy for anyone with a suitable Synology NAS.
One weird thing is that files' size shown in the Finder are wrong, it's mostly 158MB for almost every file with some exception, even if they are of a few Kbytes. When copied locally they are just fine, it a known issue? Any way to solve it? i believe the file system used in shared folded in the NAS does not support resource fork and files must remain sit or binhex, not a big deal.
Any advice for a better configuration and other features for my networked Macs? E.g. since the SE/40 is running a 68040, would it be convenient to install a 040 compiled network libraries?
As a next step I'd like to network my non-NIC-card-equipped Macs. For this I have an Asante LocalTalk/Ethernet bridge and a set of LocalTalk boxes + serial cables. In addition also a couple of AirTalk from
@cheesestraws
.
From the LocalTalk of the macs I should see the share folder? Is it?
How is server discovery supposed to work in this case? because there will be no IP to type in the Chooser since it's plain AppleTalk over LocalTalk.