After fretting over the onslaught of available color classics over at Yahoo Auctions Japan and seeing amazing prices from time to time, I attempted to nab one, fully prepared to have to put in some serious rework on the logic and possibly analog pcbs if I ever won an auction. I've read multiple complaints that the CC1 was a flawed machine with ridiculous bottlenecks, but that did very little to limit my enthusiasm for it. I'm well attuned to Mac Plus levels of speed and adjust my expectations accordingly by avoiding System 7 at all costs with it to better respect its shortcomings.
My only close encounter with a color classic in the past was in a cramped computer lab for physics majors back in my 1997-2002 university days (in Canada, so those CCs are not 100% unobtainium here), where we went to do some matlab/mathematica/C work for our projects and assignments. There was one neglected, slow as molasses, out of focus color classic and I remember not spending more than 10 minutes with it after it struggled to load all of its unnecessary extensions into a later version of System 7.
The description in the auction was a hilarious case of some info lost in translation:
It has been decorated as the guardian deity of the study for the past 30 years.
I will try to sell it with the remodeling.

I've been working on a Mac for a long time, from Karakura to Performa powerMac and the current model.

When I suddenly noticed, I had discarded the ADB keyboard and could not confirm the operation.
Therefore, it will be exhibited as a junk.
Well, I don't think anyone is bidding for a job.
I think it is positioned as an object.
It's a shame because I wanted to see it move before I let it go.

I was playing with it a long time ago, so my memory is ambiguous.
I had two models equivalent to Karakura before, <I think one was performa275?
I think that one of them had replaced the board with another one with a slightly better performance.
I think this was probably the case
Now that I'm afraid to remove the screws and check the inside, please understand that the exhibition is as it is.
I'm sorry I haven't cleaned it.

There is a note in the image, but there is a black one in the upper corner.
The time has passed and the rubber on my feet is melting. <I was surprised to find it.
I think it's exchangeable, so I think it's okay.

I was worried about what to do with the price because there are few listings that can be used as a reference.
I will start at this price for the time being.
Well, if there is no successful bid, I will keep it as it is.

Hopefully a McDonald's person will take care of it.
Yep, that's me, the McDonald's person that will take care of it!
After following people's suggestions to request the buyee broker repackaging fee in order to slightly increase the chances of avoiding shipment damage, the thing took over a week of prepping in Japan, but shipped in about 2 days internationally with Fedex. Here are some pics of what I received: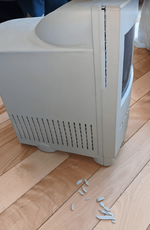 Oops, the front plate got displaced laterally, cracking/dislodging both screw sockets that are near the top, inside the machine, as well as remove chunks off the edge as you can see above.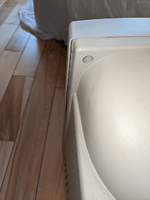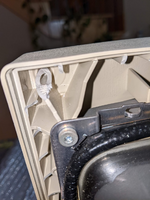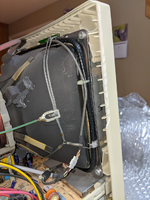 Opening up the case immediately removed the lateral tension and realigned the front plate with the rest of the machine. It can no longer fix the front to the rest of the machine, so I have to carefully use both my hands whenever I want to pick it up and move it.
So enough with the bad news. the good news is that the battery hasn't exploded before I promptly removed it: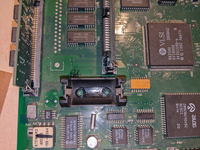 and the SMD caps haven't leaked, at least on first inspection: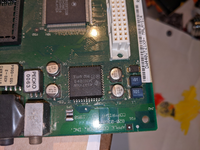 Next: powering this thing up (and risking it before a recap job). I didn't entirely surprise me that it wouldn't boot on the first try, I was aware that people recommend plugging it in with the switch in powered mode before pushing the soft power key, for up to 24 hours. My patience ran out after 3 hours and I got a chime and an image! Still works!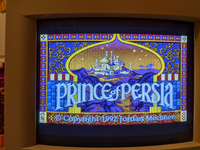 And after more probing and copying things over with my modern microsd card solution, I checked out a diagnostics and.....it's probably a LC550 board that's inside the case! It has enough VRAM to switch to thousands color mode. It's being detected as a color classic II.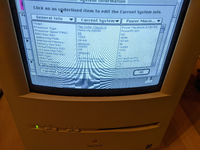 I'd say it's a win!
I've contacted buyee to see what they can reimburse about the shipment damage. The box seemed to have been carefully prepped with injection foam filling in the empty spaces are the bubble wrap, but I guess something brutal still happened.
Last edited: