Hi guys!
I got an 8100/100 from eBay, seller didn't package adequately, brittle ABS plastics and we know the results: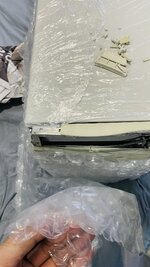 It didn't show any video in either the HDI-45 connector nor the HPV card, it did the startup bong tough.
Cleaned/redone thermal paste on the CPU and that fixed the video.
It had Illustrator 5 installed, I opened a couple of files, and the computer froze somehow.
After that, it doesn't displays any text in menus or dialog boxes, my first tough was a corrupted Fonts folder inside the System 7 folder, started with extensions disabled, same result.
Then started from a System 9 CD, still no text... did the Comman+Option+PR, no changes, took the PRAM battery out for a while, still no text...
Did the ROM got damaged somehow? I believe the ROM is responsible for the text being missing, what do you guys think?