OK, here we go! I finally decided which one of the several crazy notions to prep for a lasercut layout: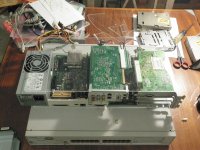 PSU in the pic is a stand in for the tiny little 1U unit scheduled for a Saturday delivery.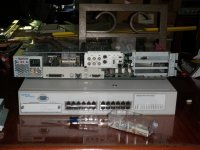 5.25" peripherals bay becomes available once I bolt all the new and pictured components in place.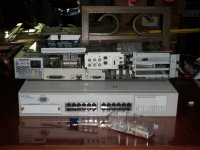 The Beige G3MetalMiniTower has been all but underfoot for a while now because I've been procrastinating about hefting it back up into its storage position in the kitchen pantry bandsaw lair. I was taking some pictures of the 1U hub recasing hack (a tangential offshoot of the
LUMPsi
feasibility study) and moved the dang thing (only remaining plastcs were on its backside by that point) aside for the very
last
time!  [}
] ]'>
These beige beasts are just HUGE! Chopping it back to the mobo, down to a three slot 2U PCI riser and stretching it out wide enough to fit mounting ears for the TelCo rack seemed made to order for me. A 3U hack with the personality card in place would have been too easy, what's the fun in that?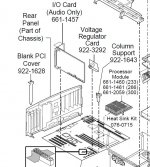 So the 2U quest began. I fully muted my BG3DT by testing it without its stupid big double wide personality card. Runs fine with the PERCH slot empty, just no sound I/O. The whisper card is so dumb that the Mac doesn't miss it, listing the properties as "Whisper" rather than With Unknown_K's assistance, I figured it was time to hit the DevNotes and sure enough it's what Apple calls a "superset" of PCI, much like the CSII for the Quadra 630's get, its son, the 6360 and grandchild the 6500 in the TV-Tuner series. Pretty sure implementing a "superset" of PCI is Infinite Loopiness jargon for adding a few extraneous, unsupported signals and dumbing PCI down to the level of a bag of hammers, but that's for another discussion. Anyway, no termination required for PCI, so it was good to go without a card in the PERCH slot's 182 pin Microchannel connector. (more on that later)
I'd suggested using this Rackmount Riser to good buddy markyb86 for his to lower the profile of his
Homemade Mini Case for G4 Sawtooth
, but it didn't work for him. After a bit of experimentation, I can now report that it's up and running, at least in the BG3 anyway.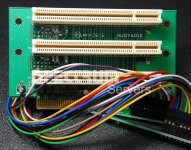 Here's the tiny
300w PSU
that's on the way. I'll be using the Beige's PSU for the time being. I'll be riding along on Floofies' coattails in his
MicroQuadra 630
ATX PSU conversionroj for testing a few twists on the ATX-Mac hack, so it'll be a while. Found it looking for a replacement for the PSU in 3Com SuperStack II home for one of my bare IIsi boards.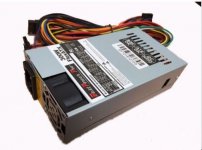 Back to that Microchannel connector Apple used for the PERCH slot. No riser card for PCI matches the spec, so I'll be hacking a pair of cables similar to this one as soon as I find a pair to match the one in there for test fittings.
Since I'm using a flexible cable, the A/V card will be bolted up to a hinged lid for easy mobo access, shades of the drawbridge, but with a considerably more robust hardware spec.
Anyway, that's where it now stands. Side panels will be quarter inch plexi to withstand the forces involved in front mount cantilevering the 2U case using ears mounted to both front and back sides of the TelCo rack's pillars. I can always make deeper sides to add a rumble seat to the front mounted BG3.
Probably not gonna go down that way though. Using it as a more capable BenchMac for the Teak HackStation in the bedroom makes a lot more sense. It'll go nicely with the Lisa2/6400/G3 on the other side of the bench.
Last edited by a moderator: