Hi everyone. So my recently acquired 128k with the 512k socketed upgrade won't boot now.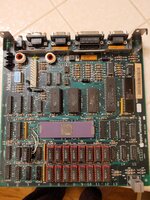 I had the caps replaced and upon return I get no bong on power up and a screen of vertical lines.
Installed a Plus logic board and it boots fine.
So far I've reseated all the RAM chips. Cleaned the ROM pins and reseated and reseated that chip that controls the memory upgrade.
Still the same problem.
Any ideas? I'm guessing memory problem based on the Larry Pina books, but I'm just an amateur.