My brother found a platinum Mac plus somewhere for $100 with a keyboard and mouse. *Buy it at once!* I said.
It wouldn't go beyond the ram test when we started it and the screen was shaken and too bright in lines, so I figured the analogue board was fried.
Doing an inventory of my compacts tonight and I booted it up. Surprise: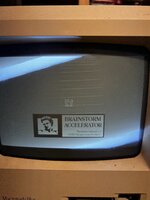 Hello dolly!
Floppy drive pooched, so I went in to the house to get my floppy emu. Came back to a dark garage — the breakers had been tripped. Very problematic analogue board on this one, which probably means bad things for the logic and accelerator boards. Still, what a find!
I had a go at booting it with the FloppyEmu — it crashed hard at Welcome to Macintosh. Then the circuit breakers again.