Here's my Macintosh SE experience over the years up to now. Long ago I got a mac SE from my school who wanted to scrap it because it was a mac. I always loved these little compact macs and couldn't let them throw it out and took it home and it was quite a project trying to load files from computer to computer using floppy discs to 800k floppy discs and I got it loaded with some games it was incredible to see what this mac could do. Then I found out about the SE30 how much more it could do
I found this SE30 with another SE FDHD years ago on craigslist for 30$!, I fixed up the fdhd and sold it and kept the 30 for myself. It powered up but the hard drive didn't work, I put in a hard drive and it started up just fine. But the sound didn't work that's when I found out about the leaky capacitors on the logic board.
So Years ago I recapped the motherboard the popular choice back then were Tantalum SMD capacitors I got a set of them I think from someone on here, these days there are soo many choices of capacitors I just wouldn't know what to get.
I had the SE30 for a while and pulled it out of the box once in a while to play with, but recently had the urge to pull it out again and mess with it more
Then I found on ebay a Radius Color Pivot 030 card going for way too cheap I just had to try for it!
So that started this whole thing and I couldn't stop ahah ha..
Then I see this DIIMO 030 50 Mhz card and made some crazy offer Idk why Its just so cool And I never saw one available in the last 10 years, sure I could have got some daystar or some 040 card then Id have to get some adapter or the stratos. but the diimo card is too cool.
I got a cd drive for 25$ and put a 12x drive in it.
The only thing left to do is fix this problem with the radius card in 32 bit mode, While doing so I decided to upgrade the ram to 68MB and bought the Rominator in hopes that would help.
So I went a little nuts Here's some pictors!
(sorry some are flipped the wrong way I don't know why they are uploading that way here)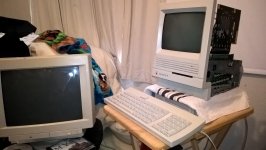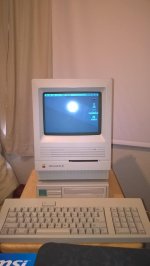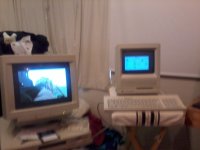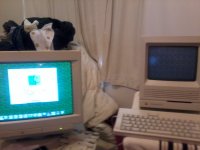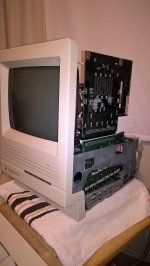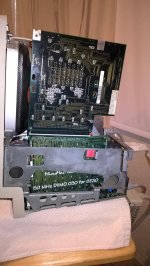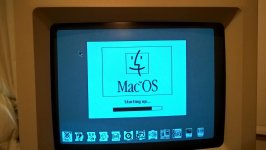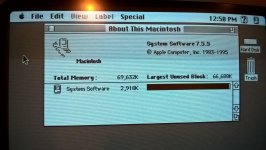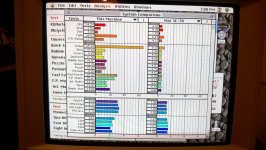 So the Diimo I received was Missing a capacitor!! but right under where the mounting bracket is in the mac so I assume while removing it jerked up and it knocked the cap right off, Panicked I found the first 22uf capacitor I could find and threw it on there.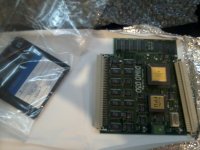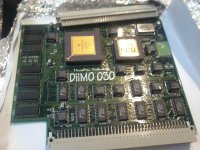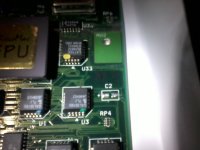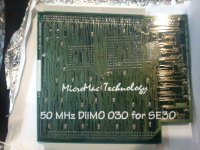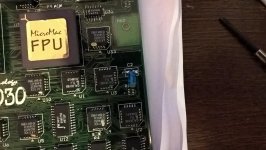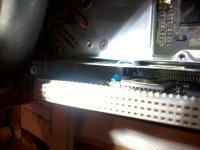 Then while I picked up the other caps I put some new ones on for now because I don't know which smd capacitor to choose ><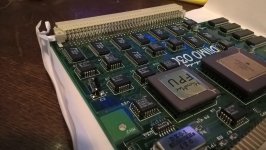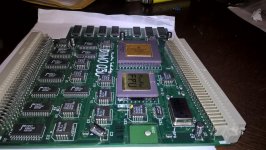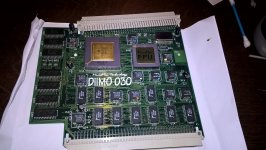 Logic board luckily didnt have much damage, an early socketed cpu and the old blue fuses.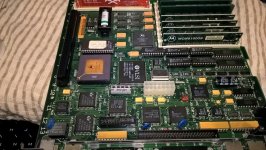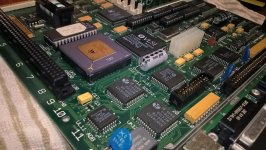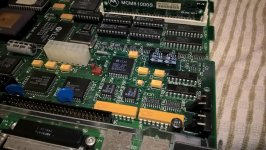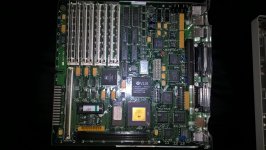 It was nice to fill this empty slot with something =)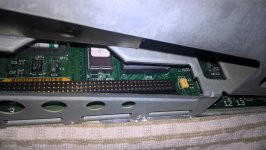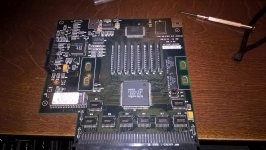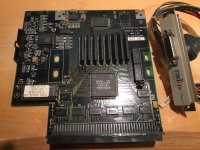 So I find this crushed capacitor On the analog board that there's no way it was damaged afterwards this was installed and glued there like this. So then it got me started just recap Everything!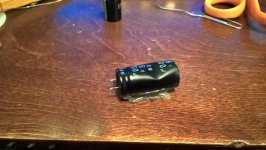 (After recap)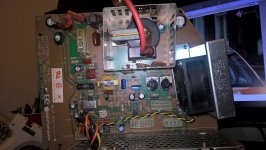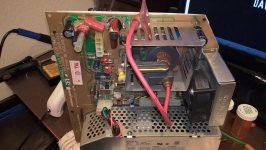 Aand I did the power supply too! A couple caps were a little crusty but still okay
All of these capacitors I got from circuitspecialists nearby. except for the big 400v680uf I got at mouser. Each capacitor theres hundreds of results so I could sit there all night on mouser I didnt know what to get so I just went down the street and got the best they had =)
(also if you see some spillage around the board I don't know what that is doesn't look like it was from the capacitors and really wouldn't clean off it was fairly hardened maybe from the transformers?)
BEFORE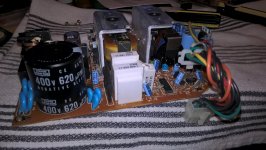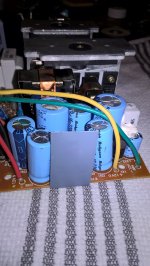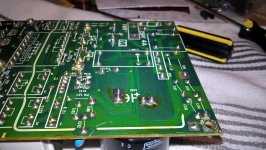 After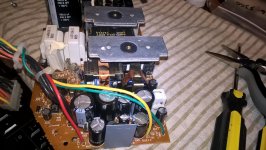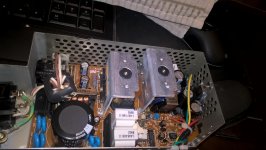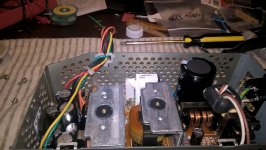 This 3300uf 16v was a little wider and it was such a tight fit in there I just raised it up with the leads works great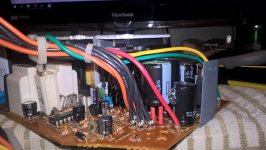 And the capacitor I chose to replace this large 400v is a Cornell Dubilier 400v680uf . The stock capacitor is 40mm high, this one is 45mm high most of them are, there's a nichicon that's 35mm but its twice the price.
And also I chose it because I could see the longer thicker snap leads that I could easily bend (not so easily they are very thick lol) to fit into the slots without having to drill holes in the psu board. and it had pretty good specs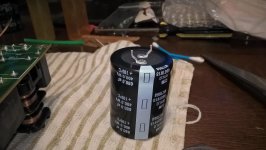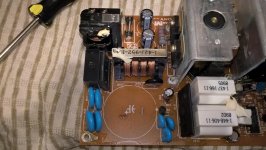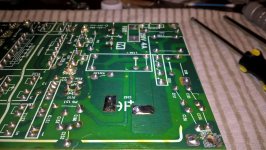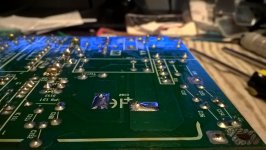 The added height from the leads and 5mm higher than the stock it BARELY Fits in place and doesn't contact the top plate.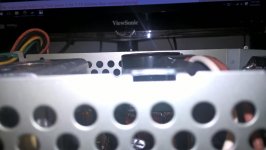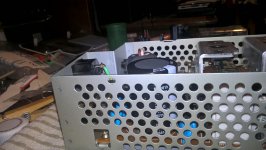 And the ram upgrade and Rominator shimmed in there.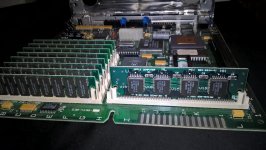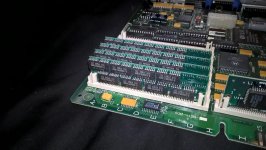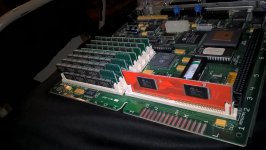 And some additional photos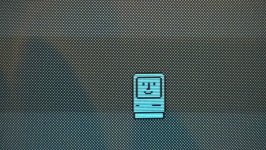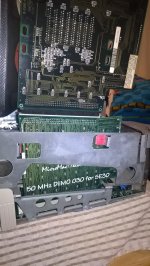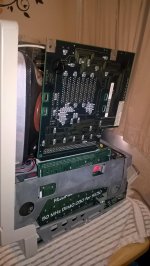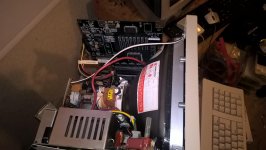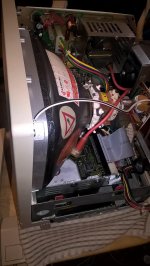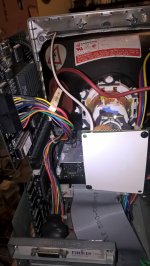 Doom anyone?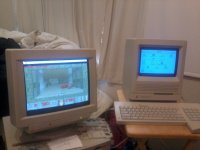 and now to get this rom updated hoping it fixes the problems with the mouse freezing =)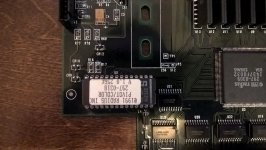 I'll take more pictures as my adventure continues!
Last edited by a moderator: