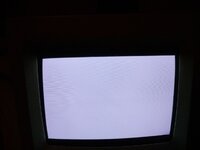 (the best pictures I could take, it looks evenly white in real life)
So I have recently recapped my Macintosh SE/30. Before recapping, it was functioning well, although it had no startup chime. This is for as far as I know a symptom of a mac needing to be recapped, coupled with the fact that the contacts on some of the IC's had green stuff on them.Fast forward to recently, I have finally recapped the motherboard after first cleaning it with alcohol (I did not submerge it in alcohol, as I did not have enough to do so). However, turning it on now, there is still no bootup chime. worse yet, the compter no longer boots and the screen is completely white, with no cursor appearing.For as far as I know, I put the rom chips back in in the right places; I removed them for the cleaning and put them back according to a photo). The RAM is a bit difficult, as I did not take a picture of the ram configuration before taking those out (this is before I knew the SE/30 is picky about it's ram). It should be mentioned that certain ram configurations lead to black snow appearing on the crt (although it would always dissapear after a while), although I could not get this on camera.
So what could be the issue? Is there a broken trace? A broken component? Is it an analog board problem? Could I fix it by putting it in the dish washer or the oven, or should I submerge it in alcohol? How can I figure out what kind of problem it is?