Hi folks,
I'm new to this corner of the internet, but come to you having recently purchased a Quadra 650, the Mac I always wanted as a wee lad. Internally I've installed a SCSI2SD v6 (Rev f, updated to firmware 6.4.14) with a 2GB card, partitioned and initialized the volume using Apple HD SC Setup 7.3.5, and installed System 7.1 (and System Update 3.0).
All was going swimmingly until I tried installing SCSI Manager 4.3; as the desktop appears (post-"Welcome to Macintosh"), the system seems to hang with the "disk activity" LED on the SCSI2SD lit and unblinking, unresponsive mouse button and keyboard (though the cursor follows mouse movements without hesitation), and no amount of waiting is sufficient.
I have a few other INITs installed, but they don't seem to make any difference.
The SCSI2SD configuration is as shown, with Parity, Unit Attention, and SCSI 2 all enabled: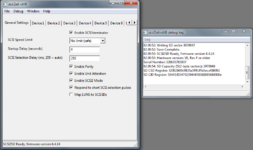 Any suggestions, ideas, or wild shots in the dark? I'd really like to get this upgrade
without
having to install System 7.5+, but my google-fu is failing me and I'm not knowledgeable enough to start tracing through MacsBug. Thanks!