After many years of poking around various IRL and online venues, I 
finally
 found a near-complete Panasonic Penwriter RK-P400c. This is a fantastically weird device: it's a battery-powered 'typewriter' but it uses a tiny 4-color plotter mechanism inside and features an RS232 serial input on the side for computer connectivity too. In other words, rather than 'stamping' each letter onto the page (as a typewriter or dot-matrix printer would have), this machine uses tiny ball-point pens to literally write each printed character onto the page - the print-head scoots left and right, while the paper jumps up and down on its spindle. Because of this, it's able to print red/green/blue/black text in small/medium/large sizes, italics, bold, graphs and charts, etc. - all tricks that were beyond most comparable typewriters of the era. I haven't tested the serial port connection yet, but I'll definitely try that out this week, probably using the Mac Color Classic II you see in the pics below.
Unfortunately, the specific pens the Penwriter uses were only made in small quantities for a few years, and are now even rarer than the device itself. Thanks to some eBay luck, I now have both a working Penwriter, and also what I believe to be a significant portion of the world's remaining ink supply for these weird machines. Even so, because of the ultra-limited supply of ink, literally every page I print is one of the last this machine will *ever* print, so I'm trying to make each page count. 
Here's a couple pics, and
a video showing me composing a letter on the machine
- I hope you guys get a kick outta this too!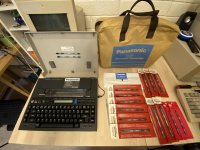 Here's a sample of the large text setting, in a 'letter' I wrote for Twitter: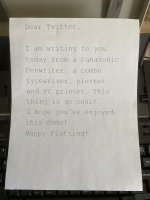 Huxley