Today I finished phase one of my Performa 5400 refurbishment project. This machine works well but has started to present a geometry issue with the display, so I decided to remove all the electrolytic capacitors and test the actual capacitance of each one versus its supposed values. Below are the results for the analogue board and the CRT yoke board. I have not gotten around to testing the PSU yet. All three of the aforementioned boards are LG branded.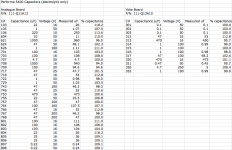 As you can see, there is a great deal of variance in how far each part has strayed from its intended value over the years. Absolutely none of these caps have leaked, much to my delight!
All the caps that are significantly below spec are Samwha brand. My gut is telling me to replace these first. The 1000uF caps are especially suspect as a cursory trace-tracing suggested that they are part of the horizontal and vertical sweep circuits. The display issue I have had involves an otherwise normal picture that is "wavy" along the Y-axis, so this discovery sort of connects to that in my mind. The "wave" is not static and worsens the longer the machine is powered up so I am certain that this is not a simple geometry calibration issue. 
My previous recap projects have all involved Macs with obviously failed caps so I've never had to do this level of troubleshooting before. I would greatly appreciate some input from someone more experienced than I. Which of these test results look worst to you? 
I am under the impression that electrolytic caps can actually 
gain
 capacitance as they age, especially if they are run too far below their intended voltage – is this essentially correct? Would it be prudent to replace the caps that are more than 5% above their intended values? Even with this criterion I would still be looking at a near-total overhaul of the electrolytics in this system. 
I may yet just bite the bullet and replace all the electrolytic and RIFA caps in this machine as a precaution but I'd love to hear some input from the folks here first. 
One final question: is it safe to power up the PSU of this machine without anything connected to it? I'd like to test its output but don't want to risk destroying it by assuming that it works the same as the PSU in my other Performa.
Thanks in advance to anyone who chips in!