Ok... so I recapped both the logic board and lcd displays caps.. The LCD has the 3.3uf caps and I've done this many times before... Anyways.. I hate that this display has a line in it.. Any one know what may be the issue?? This display doesn't suffer from that annoying purple/pink splotch from the trackball pressing on it.. so I hate to trash it (well not trash it, but want to fix it)
Techknight any suggestions??
I have tried to check the display cable and wiggle it and so on but the line remains... so I don't think it's a connectivity issue with the display cable.. perhaps one of the display caps is bad or not making contact? I just don't know why that would create a line..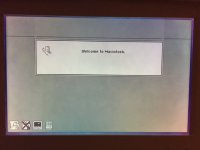 Last edited by a moderator: