HI All,
I have been working to get this machine back online...
Today good progress was made getting a SeaSonic PS wired up as the IIci PS was not functioning: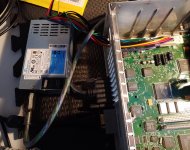 The IIci fires up and I have been using the drive that came with the with 7.1 installed.  I also got a Radius PrecisionColor 8-Xj video card and Asante ethernet card: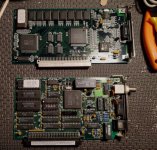 With both cards installed and my monitor moved to Radius, I get this on-screen and the machine appears to have booted however I can't access the drive nor is the cursor present.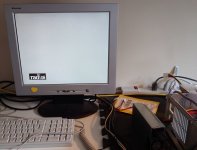 When I move the monitor back to the motherboard video, it works fine. When I open the Monitors CP, it only detects the on-board video. Running Slot Info also does not detect the video card.
As to the Asante, Slot Info see it however I can't get it to work:
When I plug a video or ethernet card into my PDS slots on the SE/30 or IIsi, the cards just work.  This does not seem to be the case with these NuBus cards.
I thought I might need a CP or init so I searched around and found RadiusWare 3.3 (nubus) which can bee seen in the screen grab immediately above. I installed only the init and during boot, I can see a radius icon being loaded with an "x" through it, however after boot (with video coming from the motherboard), Monitors CP only sees on-board video as you can see from Slot Info.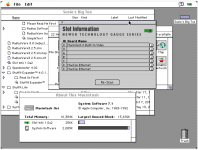 As to the Asante, the reason you see MacCon in slots D and E is that one is the NuBus and the other is my Asante EN/SC which is working fine from the external SCSI connection and allowed me to copy the downloaded Radius bits to the IIci.  Its LEDs light up however the working ethernet cable does not give me any activity on my functioning D-Link 10/100 switch.  Perhaps I need some software here?  I ran out of day after trying to get the Radius working.
What is this NuBus N00B missing here?
THx