I picked up this SE/30 board on eBay and I think it's going to be a challenge. There is quite a bit of visible green gunge to deal with. I have scrubbed down with vinegar, and IPA soak and some contact cleaner.
Caps are off and there is some pad damage to repair.
Folks in here have pointed me in the right direction for a replacement SCSI chip which is missing.
I am looking hard at UI2-4 and UJ2-4 plus the resistor nets. I can clearly see some damaged legs and lots of crud. Same for the UA8-UG8 sets.
is it a good idea to remove these with hot air, clean down the board/pads and chips and refit? Or should I just plan to replace them all?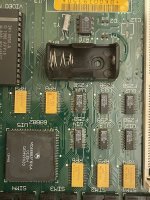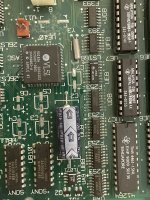 What do you good folks thunk