A good friend of mine mentioned that he had a Macintosh SE SuperDrive that didn't work, so I offered to restore it for him. He lives about six hours away from me, so last fall, a mutual friend brought it up to Boise and handed it off to me.
Wow, an original box! I've never seen one before, so this was a bit of a treat to unpack.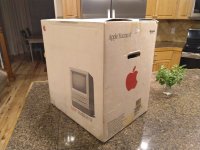 1 MB RAM, 1.4 M DRIVE. Oooooh, that means that this is an FDHD, like mine!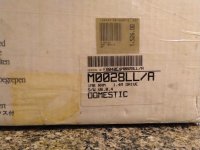 Inside, I found a mouse, a Apple Keyboard II (not my favorite, but seems to be regarded as the "best" keyboard for these), and a whole bunch of manuals, and some software. Very cool.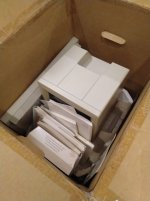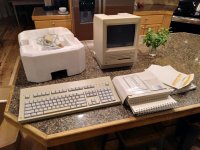 I was pretty thrilled to find this pristine copy of HyperCard in there, along with a lot of other manuals.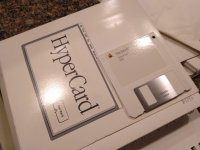 The first thing I noticed is that this one is badged as a "SuperDrive". I think I'd heard of these, but have never seen one. As far as I know, it is identical to my FDHD. I gotta admit that I prefer the "SuperDrive" name to "FDHD", so I'm a tiny bit jealous of my friend's Mac. Do you think he'd notice if I swapped enclosures? Hrm...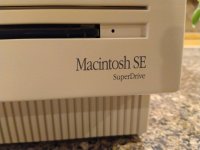 Overall condition on this one is absolutely fantastic. It hardly has a scratch, and there's no visible burn-in on the CRT. This has to be the cleanest, best-looking compact Macintosh I've ever seen. Time has turned it a bit yellow, but it's nothing that some retrobrite can't fix.
The very first thing I always do when I get anywhere near a classic Mac is to check the PRAM battery. Unfortunately, I experienced my very first red Maxell bomb on this one.
The battery must have really "popped" when it went off, as it got the metal chassis as well.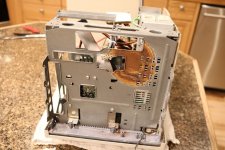 The mess was very dry and powdery, which makes me think that it happened long ago. First, I removed what was left of the battery.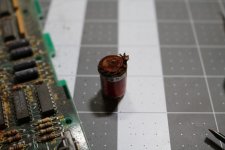 After removing everything: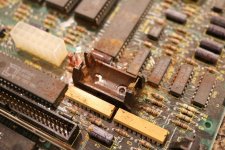 Next, I gave it a rinse in the sink under tap water. I know this part really freaks people out... but I've never heard of it actually hurting anything. I do it all of the time.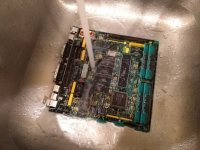 Then, I followed up with some baking soda to try to neutralize whatever acid might be left.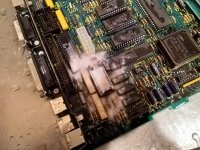 I finished up with another wash under tap water.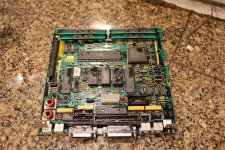 I was pretty shocked at how well things cleaned up. This Mac might actually be recoverable!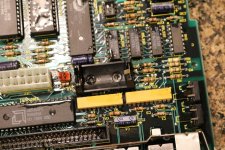 At this point, life got super busy, so with the board "stabilized", I put it all out in the garage and didn't touch it for months. That was on August 11th, 2019. It's now April 12th, 2020, and since we're all stuck at home, I have some time for projects again. Last night, I pulled it out do try to desolder the old, broken battery holder. Looking at these photos, I'm realizing that this doesn't look like the stock Apple battery holders that I see on SE/30's and pizza box Macs. It looks like the modern replacements that I use on SE's that don't have battery holders! Interesting.
Either way, it needs to come off.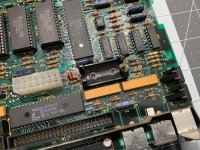 After a lot of messing around, I finally got the battery holder removed. I couldn't really get solder to flow, so I think I kinda more broke it off the board than anything. Underneath, I found this awful orange stuff, which is very hard and glue-like.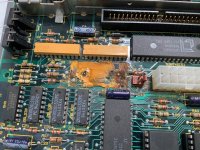 I decided to try to clean this stuff up. I soaked it in vinegar for several hours, and scrubbed it with a toothbrush. That didn't seem to do much, so I switched to a small plastic toothpick and worked away at that for awhile. This is about as good as I could get.
Surprisingly, it didn't seem to eat through the soldermask! There's one wide trace that is missing soldermask, but the trace itself seems okay. I might have ripped the soldermask off while cleaning, but I'm not sure. In retrospect, I'm starting to think that this is an adhesive - not anything to do with the battery. I'd like to hear your thoughts, if you have any.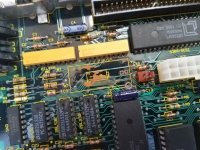 Since all of the traces look okay, I decided to try powering it on. I dug the SE SuperDrive back out of the garage.
Yikes, I'd forgotten about the extent of the damage. I'll have to deal with this somehow. Maybe a vinegar soak, sand, and... paint? Ready to hear your ideas, let me know how you think I should handle this.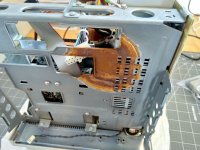 Okay, board is now installed. I plugged in the floppy drive, but not the hard drive. I was pretty anxious to see what would happen.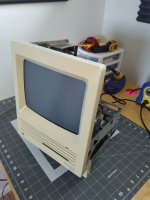 I was pretty shocked that it powered right on, and showed a blinking "?" floppy icon!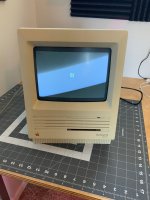 But will it boot when I insert a floppy? The drive really labored to accept the floppy disk - a sure sign that it needs to be cleaned and lubricated, which I always count on when restoring these old Macs...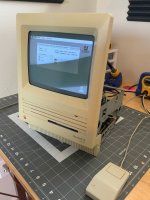 Look at that, it boots! And at least one of the ADB ports works just fine. It looks like this restoration is going to be pretty straightforward.
I'm completely out of hydrogen peroxide to retrobrite it, which I think it needs. I can't go to Sally Beauty because of the pandemic, so I was able to order 8 x 32 oz bottles from Sally Beauty for $40, including shipping. We'll see how long it takes to get here - I think I'll wait until it arrives to tear this thing down. I have three Macs to retrobrite so I'll look forward to getting it. When I do, here's what I plan to do:
Clean everything

Retrobrite the computer and mouse

Recap the analog board, depending on what caps I have on-hand (although they all look just fine)

Clean and lubricate the floppy drive

Fix or stop rust on the chassis

Solder in replacement battery holder, but I don't think I'll send it back with a battery installed

Last edited by a moderator: