Hi everyone,
I've never done soldering work on an SE before, so this was a new experience for me.
My SE (which I got in early 2021) had been showing some signs of power supply failure:
-Inconsistent fan speed
-Wobbly screen
-Disk drive trouble (it had trouble reading disks and writing to them)
I decided it was time to finally recap the old CR44M PSU. If you're wondering why I didn't just replace it, the reason is because Flex-ATX PSUs are really expensive here in Australia, with the best new prices coming just over $100. Compare this to the ~$15 I spent on capacitors, you can see why I chose the latter.
I got start with this project about 2 weeks ago, when I took the SE apart. That was a scary process as the last time I took a Mac with a neck board (instead of a small cylindrical connector like on the Mac Plus) apart, I broke the CRT.
The capacitors literally arrived today, so I decided to have a crack at recapping.
It wasn't a learning curve as I've worked on RIFA capacitors before, and I've practiced with electrolytic caps on old donor boards before, so it was pretty straightforward.
After checking the polarity twice and making sure I had soldered in the correct capacitors I clipped the legs and started putting everything back together.
And the result: (SE pictured on the left with his cousins, the 512K and the Plus)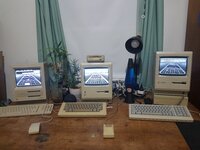 As you can see, all three are working, and the SE's problems are gone.
Thanks for reading everyone, I just wanted to share this with you guys!
-68kPlus