Hello,
I've managed to return a tiny bit to my 68k Mac hobby and decided to try to clean up an unmolested backlit Portable I had lying in the closet.
What I've done:
Didn't try to turn it on, just disassembled it.
Desoldered all capacitors. Most of the cap juice seemed fresh and still mostly under the caps. It looked like C205 (the 4.7u one) leaked the most.
Washed it thoroughly with water and then IPA.
Baked (~70*C) it in the oven as @techknight recommended in multiple posts and then dried it for several days.
Soldered new caps of good quality (Polymer Tantalum instead of SMD cans, properly derated). I'm relatively confident about my soldering, I did quite some SMD soldering and rescued several SE/30s and Classics.
Now, after connecting a charged and correct battery I'm getting this: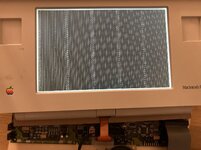 No chime from the speaker, just a really silent crack (the usual sound of a device turning on) when the power manager is reset. The computer reacts to both the interrupt and the reset button with silent high-pitched sounds of different pitch. Resetting (with both buttons + spacebar) multiple times leads to the same image on the screen.
Nothing gets hot or even particularly warm to touch. The voltages look correct, +5.2V and +11.2V.
The condition of the board was good, waaay better than the SE/30s I worked with. There are a few places where the solder joints got a bit dull, but nothing as tragic as I've seen on other Macs. The suspect places are:
U5L (LT1054CS) which I already desoldered, cleaned underneath and resoldered
U5K 74AC138 both rows of pins have dull solder
U5H 74AC244 one side dull
U13C 74AC244 one side dull
U13D 74AC257 one side dull
U14A ASC one side dull
Any idea if any of those could be related to the booting problem? I don't have experience with Portable, not sure where in the boot process I'm actually stuck. Any advice which area I should focus on?
Thanks a lot and all the best in 2022!