About a year ago I bought a 1984 128k Mac that was listed as having been upgraded to 512k but had a green-and-black "Levco MonsterMac" sticker on the front, so I expected there might be some secrets in there. When I received it I found a port threaded through the external floppy opening - a telltale sign of course - and I booted it up and sure enough - it has a 2MB RAM upgrade! However the video was flickering and often died altogether - probably bad J4 solder joins. I put it aside
for awhile due to other priorities and finally opened it up today.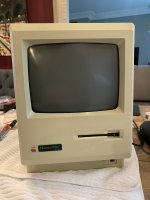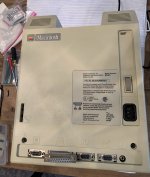 Here's what I found: (the motherboard had to be pried out with a screwdriver due to the expansion board attached)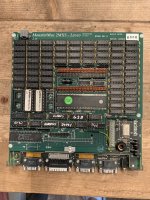 What a gorgeous upgrade board. It appears to clip directly onto the 68000, and to get power from the logic board. Separate soldered-on lines labeled "overlay" and "clock" also run down to the logic board. I love the hand-labeled ICs: "Sneezy", "Dopey", "Doc", "Sleepy", "GSB", and "SCSI". Also this upgrade appears to come with custom Levco ROMs? The SCSI ribbon cable, assuming that's what it is, clips on at P5. As you can see from the original 'Macintosh' label, that is an original 128k motherboard lurking underneath.
Also hiding in there was something I've never seen before: this is a "Levco MacBreeze" piezoelectric fan (labeled as "motorless"), rather loosely attached to the floppy enclosure with velcro. It's fairly quiet though does make a bit of a buzzing sound as it runs: when plugged into AC power, the white plastic bits wiggle back in forth, creating some perceptible airflow (though not a ton). The fan is powered with test clips attached directly to AC power on the analog board.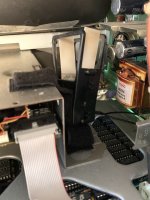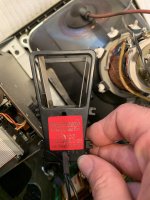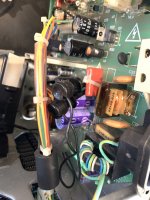 View attachment 1785FDBE-D346-4C1A-A123-B9983A55C126.MOV
Next step is to reflow some solder joins and see if I can get the video working consistently again - to be continued.