I have a Radius FPD SE/30 video card that I've had for a few years now and I have considered using it (if possible), but I did not know whether it required the use of a Radius monitor or whether it could be used with other monitors.
I've looked in several spots for information, but only found snippets, sales, references to other similar cards and not the information that I'm looking for.
I'll list out the specifics and hopefully someone will have access to the information that I am looking for.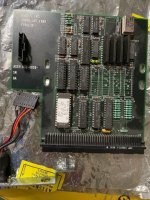 On the card it is listed as ASSY 632-0026-A FPDSE30.
The external connector is a DA9 (not a DA 15 like I've seen in various other Radius cards)
Does anyone know what monitors this will work with? (I Assume some form of MDA, EGA, CGA or a proprietary Radius only list)?
What is the pinout/cable descriptions for a suitable cable.
Is there a copy of the "Radius Interface Card Installation Guide" for this card that is available?
Is there any other Radius documentation specific to this card that is available?