Hi Everyone,
I'm looking to replace my G4 Cube's optical drive with a laptop-style SuperDrive and before I take a stab at designing one myself, I was hoping somebody out there had an .stl file for the bracket to fit it into the Cube's optical drive area. With cubeowner now defunct, I can no longer access the forum posts discussing this. I've attached a picture showing this bracket which I found on:
http://www.atpm.com/12.03/cube.shtml
If I can't find one, I'll be sure to post my own version of it for anyone else looking to do the same thing. Thanks in advance!
The bracket in question: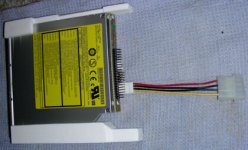 Last edited by a moderator: