Please tell me if understand this right.
I must format the hdd to fat32 (already is) and than from inside Powerbook 150 i will format fat32 to HFS plus, but wikipedia say that Powerbook 150 had System 7, which is not formated with HFS plus, as HFS+ came only with Mac OS 8 ?
Partitions must be up to 2 GB in my Toshiba hdd for the mac to work. and i have two partitions as fat32.
In my case my local disk (I
must be partitioned in two further. I will end up with three fat32 partitions. I made a screenshot.
My hdd :
https://68kmla.org/forums/index.php?/topic/56101-actuator-arm-moving-when-i-move-my-hdd-in-my-hand/&tab=comments#comment-596358
Can i just put this files on the formated fat32 hdd and Powerbook 150 will formated further ?
http://charm.cs.uiuc.edu/users/olawlor/mac/mac_PB_150.html
In a screenshot i took shows the files decompresed from the .sit file from the above site, with the unar in wondows 7 Ultimate (i don't used WinImage 9.0, as it won't open it).
All are in a Utilities folder, Trash is empty, System Folder has files in it, Desktop Folder has a Desktop Saver folder, wich is empty.
I read somewhere that is important that the file retain theyr 0 KB size, wich newer StuffIt Expander versions in windows won't do.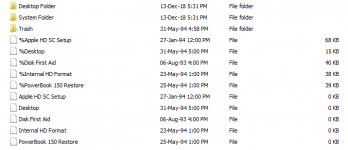 Last edited by a moderator: