I was looking around on eBay when I saw this one, so I thought, hey, why not give it a try. It was provided as 'not working' and having undergone battery leakage, but it did not look
that
bad...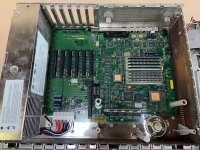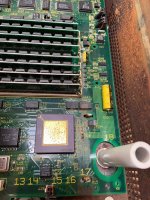 Some of these components aren't looking too hot, but compared to the pics of Maxell-bombed Macs I have seen, it's certainly not as much of a disaster.
So, can we get this going again?
-
I started by cleaning up the motherboard and inspecting it to see what would have to be fixed. This is where I am tonight: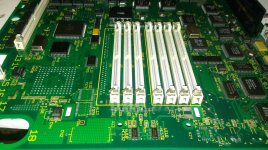 As far as capacitors go, this motherboard is equipped entirely with tantalums and axials, so there's no cap gunk to deal with here. And that shows: outside of the battery leakage area, the board is in mint condition.
Anyway, I started removing the components that were affected by the leakage. I did some cleanup, but I ran out of solder wick, so I have to wait for some orders to arrive before I can go on.
The CPU got a tiny bit of corrosion on a couple pins, so I removed the CPU socket to check underneath. The socket and the board are actually fine, somehow. I cleaned up the CPU, I'm confident it's going to be fine.
For similar reasons, I removed one of the RAM sockets, and it did have battery gunk underneath, so that was a good thing. One of the pins had been corroded, I couldn't even desolder it because the solder had turned to some crust, I had to just push that pin through the board. The socket otherwise went out with no fuss, and it's going to be fine.
The two 74F573 chips between the RAM and the CPU did get a lot of the corrosion. One of them has a really weak leg, so I'm going to replace it. The board underneath is fine and the connections are all good, the pads just need a deep clean.
The RTC chip is fine as well, and all direct connections to it are good.
The worst is probably the start-up circuitry -- one of the diodes was missing, and two more came off as I scrubbed the board. The solder joints on the remaining ones aren't looking too hot, either, so I will have to rework these. There is also some trace damage to repair, in one case the corrosion even ate through a via and started eating the trace on the other side.
I'm confident I can get this running again
-
I also disassembled and inspected the power supply. All seems good inside, nothing's asploded, there's no trace of cap gunk or bulging caps. I wasn't able to verify that it's working, apparently these need an external power source to turn on. In the meantime, the motherboard will first be tested with a known-good ATX power supply, when it's finished, that is.