I figure I've finally purchased something worthy of a conquests post…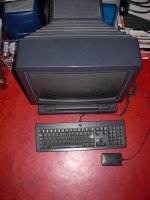 Yep, a NeXTstation Mono. Maximum memory (32mb).
Got it from a craigslist seller for $80.
Decent condition.
Somewhat dusty, a few dings in the case, and what appear to be a few paint splotches. Should clean up easily!
Screen has a few tiny scratches, not noticeable during normal use.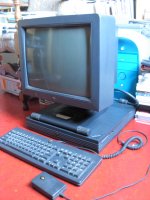 Unfortunately, Flickr appears to be reworking it's UI… And the BBcode option is grayed out, so I had to use the Imgur…
Back to the station… It's running OpenStep, and is running out of room on it's 100mb internal SCSI drive…
Most of it's applications are missing, too… LocalApps folder is missing, for example… And builddisk is nowhere to be found. :-/
It appears to have been used as a webserver for "Toronto Trek 13", some sort of a Sci-fi convention now known by another name.
I'm going to have to reinstall the OS (I'll install 3.3, it's better suited to 68k machines)… Unfortunately, I don't have the type of SCSI cable this computer uses…
I could possibly use the internal SCSI cables (and CD Drive) of my 7100 (or Centris 650) to reinstall the operating system… NetBoot has also been suggested to me.
Having a hard time figuring out where to put the thing, It will probably replace my (unused) eMac beside my PowerMac G4
Last edited by a moderator: