I'm trying to use MacPPP on a Mac Classic with system 6.0.7, but when I open the PPP settings I get this error: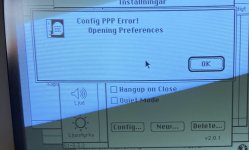 Then the PPP window goes blank. I tried with versions 1.0, 1.1.3 and 2.0.1. The control panel works under system 7.1 on the same Mac (tried with 1.1.3 and 2.0.1), but fails under system 6.0.7 (Swedish) and 6.0.3 (English).
Any suggestions on what to try? I don't know if it has problems generating the preferences file? Or just reading it? Under system 7.1 a "PPP Preferences" file is created in the Preferences folder, so I copied the file to the system 6 System Folder to see if it'd help, but unfortunately not. I'm not sure where preferences generally are stored under system 6?