I recently posted a thread over at the conquests section, where I detailed my purchase of a CC1 from Yahoo Auctions Japan, which turned out to be a effectively upgraded to CCII with a LC550 logic board. It featured a cracked case thanks to the shipping and the sting out of the ordeal is greatly lowered by having received a full refund. Here's that thread:
https://68kmla.org/bb/index.php?threads/a-color-classic-saga.41108/
The process of making it work in the first few days of receiving went like this:
State A
: (plugged: logic, back of the case, hard disk, floppy) Flick the power switch on, press soft power on the keyboard - get a brief led flash, then nothing.
After leaving it plugged in with the switch on + no soft power activation for 6 hours, I got to
State B
: (plugged: logic, back of the case, external scsi drive) Powers on normally, emits a very high frequency noise but otherwise works.
Now, several weeks have passed during which I didn't have time to play further with it and I ordered cap kits for both the logic and analog boards, thinking I shoudn't push my luck in the long term without doing proper maintenance. Before tackling the logic board, I was curious to see if I could still repeat the success of its last state, but no, I got:
State C
: (plugged: logic, back of the case) No LED flash, just a very soft power up sound in the CRT circuitry presumably, black screen no matter what I do.
After replacing all electrolytic SMD caps with tantalums (I did not mess up the orientation and tripled checked it, I've successfully done a Classic 1 and SE/30 in the past), same
State C.
I then proceeded to work on the usual known culprits of the analog board, which can be seen here (X marks the ones that have been swapped with new ones. Merely encircled ones are ones I have on hand if need be the old ones haven't been swapped). I also tested the fuse and I get continuity.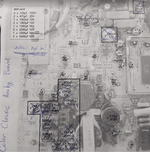 There were 2 diodes near the lone 3300 uF 16 V that seemed to have scorched the board a bit (I've seen others with similar issues in that area)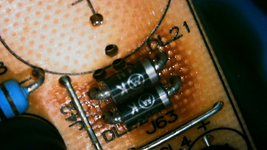 However, I removed DL21 out of circuit and tested it with a DMM:
Diode mode:
forward: 727 - increasing towards 1000
reverse: 1
Resistance mode:
forward: 648kOhm
reverse: inf
After putting that machine back, I still get
State C
. I checked the voltages from the hard disk power connector and I get 0.2 V out of the 5V rail and absolutely nothing from the 12V rail. Someone suggested I try to flick the switch to on without the logic board in and the back case plugged in, which gives me:
State D:
(logic out, back case with fan in, hard disk out). I got a power up of the fan for a second, then power down, then power up, then down. After a minute or so, it can stabilize itself to normal operation. Turning it off and on again does not repeat that struggle.
I'm open to swapping optoisolators if need be, I can check more voltages elsewhere, I just need some direction. Maybe a nudge towards replacing those diodes (with exactly what?).