Hi everyone,
I had posted in another thread regarding the technical aspects of this conversion; here I will document my progress as to the real thing..
My goal was to give my girls (age 5 and 3) a small enough machine running System 7 to allow them to play some games and learn computing on. Part of the goal was to make sure that no internet access was possible (no issue there), and to let them play the games I grew up on. Currently they are using my LC 520, but it is very heavy and takes up a lot of room from front to back.  My idea then was to pack a machine in a small(ish) case, and combine it with an LCD to take up a smaller footprint. The LCD was pretty easy to source, thanks to the suggestions of those here ($9 at Goodwill). I started with a Performa 630 that I had and I didn't really care about. I then decided to upgrade and get a Quadra 630 motherboard instead, combined with the rest of the Performa innards. My last want was to make this thing clear: seeing the internal components would be pretty cool to my girls.
So, the first thing I did was tear the thing apart and get it working. Quadra board was re-capped, CD-ROM drive and IDE HD removed. SCSI2SD was installed in place of the CD drive internally. I hooked up the Apple 14" monitor to get the proof of concept working:
So once I got that going and shook out all of the bugs, I started to design the case and mount points. I got a great box of various-sized plastic and metal mount posts and screws. I mounted various components on these to be mounted on the sides of the box: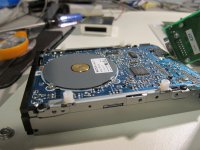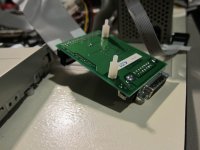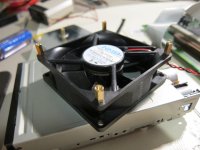 I bought some 14 x 11 plexiglass sheet, and also got some metal screen sheet off of Amazon for EMI: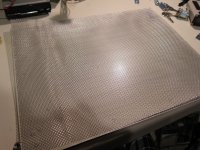 Next, I mounted the motherboard connector and motherboard on the bottom piece. My drill press helped make the holes: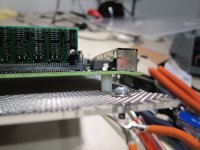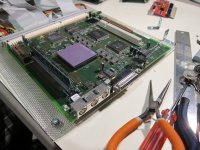 I next began to prepare for mounting the power supply. I aligned it with the metal braces that I am using to hold the plexiglass together and drilled new holes: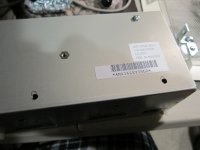 I then drilled holes in the casing for the front volume/headphone package, and mounted posts: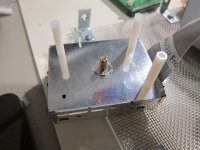 The next thing was to start mounting all of the components on what will be the top part. The floppy drive, monitor interface card, and front volume panel were all mounted. The next step was to drill holes for and mount the fan: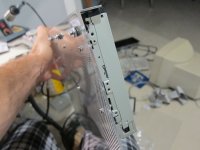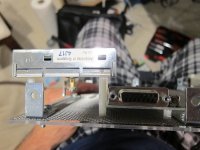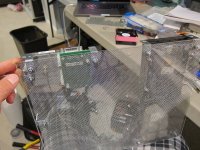 Of course, stupidly, I was overzealous with the drill bits (I didn't have the correct ones for acrylic) and cracked the sheet! Darn! Well, I tried to re-glue it, but it was a fail: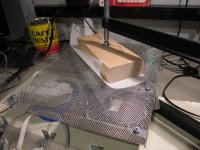 Next, I am waiting for the drill bits to try again with a new piece. I have high hopes, and I think this will eventually work out. I hope this inspires others to try similar things and conversions. Let me know if you have any suggestions as well!