Hi all,
For some weeks I've been trying to get an AppleVision 1710 up and running - it's my idea of the ideal vintage Mac monitor.  Shame that the 1710 was notorious for being a complete failure, mainly due to faulty CRT/video controller boards and most were recalled or replaced.
My journey has been merging the innards of an AppleVision 1710AV (exceptional CRT but with bad CRT/video controller board and suspect chassis PSU) with a non-AV 1710 (bad CRT but with recalled CRT/video board and chassis PSU from Apple in 1999).
With the faulty CRT/video board in, you are meant to run a utility from Apple which saves the parameter settings (after jumpering pins 1+4 of the BV1 connector), for upload to the new controller board.  Unfortunately the CRT/video board I had made the monitor so unusable that I wasn't able to do this, and needed to calibrate the monitor manually after the new controller board was installed.
Using Apple's Display Service Utility, recalibrating the CRT settings was actually pretty easy (along with adjusting the focus pots on the flyback), but I've an issue with high brightness/retrace lines that are highly visible when the monitor displays a dark image.  I've read that Trinitrons do exhibit a brighter picture and retrace lines with age, however it didn't do this with the old CRT/video board.  It also does the same retrace lines with the chassis PSU replaced with the recalled one.  I've read that more generic Trintrons of the same era had a service connector for adjustment of retrace and brightness settings, but the Apple utility does not provide this much detail.
This leaves me to adjust the pots on the CRT neck to dial down the brightness; would any Trinitron experts suggest where to go from here?  Adjusting XCV and XBV does nothing ... the tube model is Sony M41KKA16X
Thanks
JB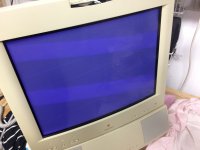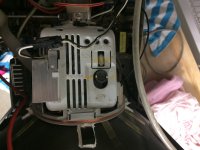 Last edited by a moderator: