Does anyone know which Apple driver/extension this card uses? The SA0025 is apparently just a re-badged ZNYX NETBLASTER ZX345. Both boards are silk-screned with "SA0025" on the PCB, and appear identical, besides the sticker on the 21140 chip itself.
For the record, the Apple 10/100 PCI card is actually just a DEC 21140-based Ethernet card:
The following is taken verbatim from a 1998 Apple document, labeled "033-1014-A",
Update: About the Optional 10/100Base-T Ethernet Card
Some Macintosh computers come with an optional 10/100 Base-T Ethernet card installed. This
update provides details about the card that are not covered in the computer's manual.
10/100Base-T Ethernet Card Specifications
Open Transport: Mac OS 7.5.2 or later, AppleShare, AppleTalk, NetWare for Macintosh, TCP/IP
Connector: RJ-45 (for 10Base-T and 100Base-T)
Media, 10Base-T: Cat 3, 4, or 5 UTP on 2 pairs up to 100 meters (m)
Media, 100Base-T: Cat 5 UTP on 2 pairs up to 100 m
Bus interface: PCI revision 2.0 and 2.1, share interrupt A
Channel speeds: IEEE Auto Negotiation of 10Base-T and 100Base-T
Communications: IEEE 802.3i 10Base-T; IEEE 802.3u 100Base-T
Controllers: DECchip 21140, 32-bit internal processor per channel
Power: 1.2 amperes (A) @ 5 volts ( V ) typical
Here's a photo of the Apple-branded card: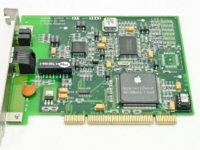 ...and here's the original, ZNYX-branded card: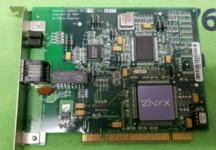 Last edited: