Up on Yahoo Auctions right now: an
Uchishiba Seisakusho BookcaSE
.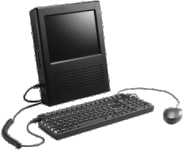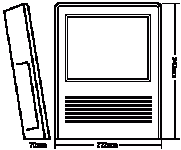 This is an aftermarket conversion case for a color 5300/190. It's something I've been interested in for a while… in fact, here's what was already set out on my table at home: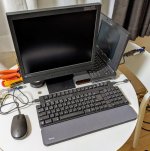 The auction starts at ¥240,000 (~$2400). I'm guessing that, whatever it sells for, it will still be a lot more than I'd pay (also, I'd prefer black). But, the photos in the auction are the best I've seen yet, so I wanted to archive them here for my future reference, and make some observations about what's going on.
Other sources of information: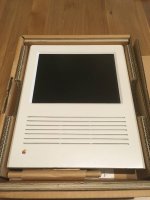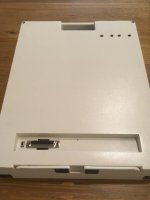 So yeah, the front looks SE-ish. The back is new to me: the case has a built-in HDI-30 to DB25 converter, which is a nice touch. Apparently the feet swivel out. I was aware of their existence, but they're not very long, and most BookcaSE photos are from the front. I like the presence of the handle up top, but not sure what those black circles are.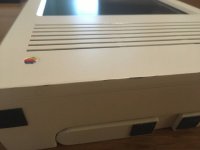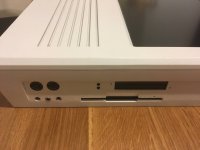 Here we have the bottom and side. There seems to be an indentation to put the Apple logo in, but it's not Apple-shaped and I don't think it looks great. Also, what material is it? It looks to me like it's painted over… metal? plastic? On the side, all the ports. Also, I suppose lower left is power. Are those supposed to be the PCMCIA eject buttons next to it?
It's
chunkier
than I expected. I mean, I know the schematic says 7cm, but I didn't really think about that. The 5300 is pretty chunky, but a desktop case could actually be thinner (no keyboard).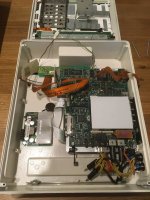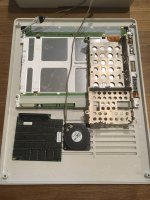 Here's the interesting stuff. It appears that the logic board is oriented with the original back pointing down. That means that the PCMCIA slots are in the normal position relative to the logic board, but everything else is shuffled around. I think maybe the floppy drive has been shifted underneath the logic board with a ribbon cable.
In order to position the other ports, there are a bunch of extension cables. The ADB and serial make sense, though the line-in/out is left unplugged (also in both
Journal du lapin
photos). I guess it's because the computer would detect that as connected headphones. Seems awkward.
I guess there's no provision for the video-out board in the case.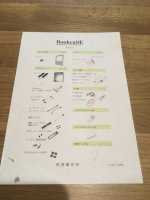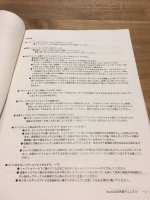 Pages from the manual. The parts list appears to be:
[*]Rear case


Stand (feet)

SCSI board and mode switch

Serial board

ADB board

Audio in

Audio out

Power connector

Brightness/contrast buttons (maybe these go in the four black holes in the top of the rear case?)

PC card eject button

Battery [metal holder?]

Non-slip pads

[*]Chassis


Battery adapter

Reset switch

[*]Cables


Backlight cable

Speaker cable

Floppy ribbon cable

CPU cooling sheet

[*]Screws


Short (14)

Long (4)

Rubber bands (3)

[*]Torx screwdrivers (3)
[*]Instruction video
[*]Instruction manual
I've thought about how I might go about arranging things inside my own version of a BookcaSE, on the assumption that I was never going to see one on auction. Now my assumption is that I'm never going to
buy
one on auction, and I have more to think about.