Bought a clean cube a little while ago on ebay, came with a really nice boxed 20" cinema display, and I was really pleased to get one in nice cosmetic condition.
I have been struggling to get it to boot properly, I had to the point where it would boot an existing 9.2 installation to loading exts, but then freeze, and it won't boot off my OS9 retail cd's either, so I haven't got it to boot into an OS yet.
I decided this evening to strip it right down so I could try a different IDE cable, this one has a few nicks and I suspect a possible short or break. I decided while I had it stripped down I would put some new thermal paste on the cpu.
And I found this: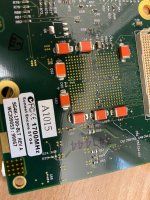 There is a fan in the base, so I had an inkling that something was perhaps not stock, but I did NOT expect this!
It's currently on what appears to be the stock VRM. I do already have an artmix one on order as I want to play with other video cards, but not arrived yet. Is it safe to run this on the stock VRM?